Whether you are an owner/dealer, CEO or just a manager in a car dealership one attribute that will set you apart from the rest of the world in quality is the distinction between considering yourself a manager or a leader. The difference is profound. Managers look for people to serve them, leaders are at their people's service. Managers are focused on doing things right, leaders focus on doing the right thing. Managers are interested in climbing up the ladder leaders are concerned about the wall that the ladder is leaning against. So, ask yourself the question are you a leader or a manager? Clearly most of the answers to your problems will hinge upon the answer to this question.
Building a good team requires a lot of hard work, nourishment, tender love and care. Conversely it is easy to go through people like paper if they didn't get the job done the first time. Salesperson turnover at retail stores still hover over 69% against a private sector national average of 46%, and three-year retention is below 33%. Mistakes are made when hiring these employees in the first place by not scrutinizing if they are just desperate for a job at minimum wage or they have a PURPOSE. However subsequent to their hiring it is still a matter of exploring their potential, learning about their strengths and weaknesses, and more importantly, if they don't have one, coaching them into developing their purpose. Without a meaningful purpose it is not possible to realize full potential and perform at an optimum level no matter how much training one goes through or how talented they are. This is the number one cause of turnover at a car dealership and in most cases the only tool that is used is intimidation, bullying or coercing to catapult them to the next level or out the door. We start all over again nothing changes. Difference between highly successful stores and those that just roll with the punches is that difference in employee retention.
Coaching your employees to develop their purpose immediately connects the dots between their lives and their performance at work. It allows them to behave autonomously to do the right thing all the time without having to remember the policy, the rules and the process. People have to be self-energized at all times to perform at an optimum level and it is not because they are fearful of losing their jobs but because it excites them to get results. That is why sometimes you hire someone with no experience but with the eye of the tiger and purpose, you set them loose and they immediately become one of your best performers. Conversely you hire an experienced salesperson who had been through many revolving doors he never sells one more car than what he is comfortable with in his self-image. This process requires determination, patience and a lot of one-on one time spent with each one of them. Unlike what most people think it is a leader's job to fulfill this requirement.
Additionally, authoring an effective pay plan to energize your people and give them the road map is another very tedious task. Often we see pay plans that have been copied from other stores and brought over by the newly hired GSM or the GM, which would have nothing to do with your store's specifics. The assumption is if it worked there it must work here. How so? There are a lot of variables that need to be factored into a salesperson pay plan and it must be done carefully for it to do the job.
The Funnel System
In order to calculate a correct pay plan budget, you must first do all the following steps to determine the elements of the pay plan as well as the number of staff required to do the job.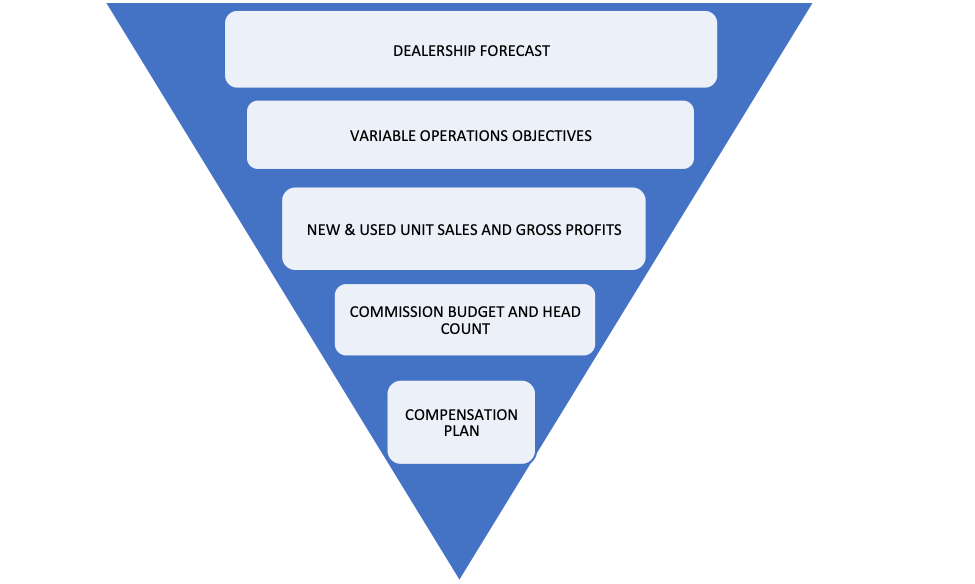 After you have done this, now it is time to determine the distribution of the pay out amongst the staff based on their skill level. In the process and based on the unit sales and gross profits required to be generated, you must determine whether to pay fixed per unit or a gross profit %. Either way you must budget it as a % of the gross revenue forecast that must include all the additional revenue generated including factory incentives and dealer reserve. This is the only way you can arrive at a commission budget number that not only won't be out of balance in spending, but it will also be distributed equitably based on individual skill levels while encouraging staff to graduate themselves into higher pay scales. We have a full workshop and a step by step process to develop effective pay plans which we have presented at the NADA Dealer Academy classes a few years ago. Those of you who are interested please reach out and I will be happy to help. See you next month.
All the best,
Arlan